Extremely important files and other data are a pain to lose after an OS crash. Various providers offer different software which can be used to avoid losing vital data. NovaStor and Acronis both released powerful programs to help those with important files that are susceptible to being corrupted or deleted. Such programs can help them recover the lost files later on all thanks to the backup files that are created.
Similarities
Although NovaStor Novabackup PC and Acronis True Image both supposedly provide the same, efficient backup systems to different users, the two organizations still come face-to-face with one another in terms of user preferences for backup software. Thus, it is important to point out each product's key features.

User Interface
Both products boast an easy-to-navigate and simple yet eye-catching user interface. NovaBackup PC includes a Simple View Screen, which offers not only a simple interface, but as well as an option to schedule backup procedures yourself. It also includes TimeSlider Restore Technology, which gives the user a preview of all their backed up files in one window, regardless of where they backed them up.
The innovations made by Acronis True Image seemingly pales in comparison. A few interesting graphics were included in the software, making it fun and easy for employees to back their files up while making the task easy and quick to perform. On another note, unlike the NovaBackup, the True Image is compatible with the newest OS release of Microsoft, Windows 10.
Variety of Backup Destinations
Both programs are able to create backup files in different destinations, but each offer at least one destination not being offered by the other. In backing up files, it is important to keep a copy of the backup file both online and offline. Online users can choose to upload them in the many prime destinations using the Fast-Bit technology, something that NovaBackup PC has to offer to backup files online in the least time possible. On the other hand, True Image allows you to backup your files on their very own online cloud platform, called Acronis Cloud, and as well as on cellphones, and other mass storage objects. On another note, it also allows for a search feature on your backup files.
Disk and Partition Backup
Both programs offer disk and partition backup, and both offer efficient and speedy processes. The speed is highly dependent on the computer or CPU performance in order to determine, with barely any bias, which product performs better.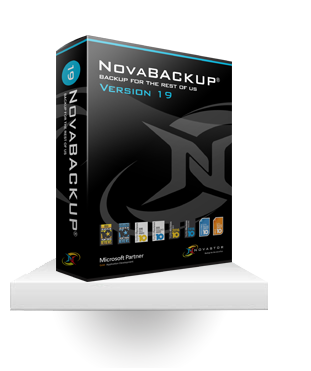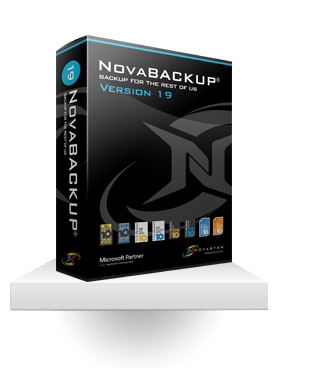 Image Creation
NovaBackup PC allows users to create images of data, making it possible to be restored from the time the image was created. This feature is called Disaster Recovery. A similar feature is offered by Acronis True Image, although it provides more options for backup customization, such as choosing from full, incremental, differential methods, version control options, compression level, encryption, scheduling, etc.
Conclusion
All in all, both products offer double and even triple protection for your important files. However, depending on the nature and volume of work, the force of choice between the two products is imposed on you as a user. One great advantage of Novabackup PC over Acronis True Image is almost half price for the first one, more over there are plenty of Novabackup coupons, discount and deals which will help you to save even more.
NovaBACKUP Virtual Edition Features Review
NovaBACKUP BE Virtual – Agentless backup & restore of virtual machines from VMware ESX(i) 4.0 + along with vSphere servers. Complete Business Server Protection – Experience all the value of NovaStor's award winning NovaBACKUP BE solution, plus complete protection for your virtual environments.
– Support for all Vmware ESX(i) 4.0+ and vSphere servers licensed with the vStorage APIs
– Unlimited VM Protection available for one low price
– Scales to suit your business requirements
– Huge savings over the competition, without sacrificing features, benefits, or performance
– Easy selection – NovaBACKUP BE Virtual displays all ESX(i) and Vsphere servers – just select and protect
– Support for open files including Microsoft SQL and Microsoft Exchange
– Support for the Latest Server Systems
NovaBackup Business Essentials is fully compatible with Windows Server 2008 R2 and Windows Server 2003 systems, SQL/Exchange and VMware.
Automatic processes
Continually update your protection – no need to remember to run backups. NovaBackup will even email to tell you that your files have been backed up.
Get Full Peace of Mind
Disaster recovery and full disk imaging options allow you to restore your entire system including applications and all files even in the event of total computer loss.
Double Protect Your Data – Best Practices
Local and online storage all in one. This is the only way to fully protect yourself and maintain best access to your data.
Find and Restore Files Easily
With NovaStors patent pending technology, restore historical versions of files, from a single view, regardless of when or where the files were backed up. You don't even have to remember which device you stored a file on. NovaBackup remembers and tells you!