Paragon Hard Disk Manager 17 Advanced Review
Hard Disk Manager Advanced is an integrated set of powerful tools that is specially designed to tackle most of the problems encountered while using Windows PC.
It includes all the latest technologies in managing stand-alone Windows environments: drive partitioning and file system optimization, disaster recovery and system migration, data sanitization and boot management for both, virtual and physical systems. And it's open to Boot Camp users as well!
Paragon Hard Disk Manager Advanced provides you with all of the tools you need to manage today's hard drives, including partitioning, backup & restore, migration, optimization & defragmentation, hard drive disposal, boot management and system recovery. Save your time and money with this comprehensive package of functionality is accessible from one easy-to-use interface. Now supports the latest HDD/SSD standards!
Features
– Support for the latest Windows 10
– Partitioning of any complexity for physical and offline virtual disks
– Easy management of several operating systems on one computer
– All existing backup techniques, including sector and file level backups with differential or incremental updates as well as an exclusive file complement
– Any backup destination, including local mounted/un-mounted partitions, external storages, CD/DVD/Blu-ray discs, network shares, FTP servers as well as the secured hidden partition (Backup Capsule)
– Live imaging and migration for a Win2K+ system with two snapshot technologies onboard, MS Volume Shadow Copy – Service and Paragon Hot Processing
– Differential and incremental backups, and exclusive file complements allows different data time-stamps with no duplication, and minimizes backup storage requirements
– Complete infrastructure for establishing a self-acting data protection system, fully compliant with the set-and-forget backup policy
– Fast restore at a granular level without the need to restore the whole image
– Support for major virtual machines, including MS Virtual PC, VMware Workstation, VMware Fusion, and more
– Any type of migration (P2V, P2V Restore, V2P, V2V, P2P, migration of Windows 7 installed on .vhd)
– Work with virtual disks as if they are physical (Connect VD)
– Fast data exchange between physical and virtual disks, between virtual disks of different vendors, or between a virtual disk and its snapshots
– Make OS start up after unsuccessful migration with 3rd party tools (P2P Adjust OS, P2V Adjust OS)
– Comprehensive recovery environments based on DOS, Linux, and WinPE 2.1 are available on CD/DVD/Blu-ray, thumb drives, or Backup Capsules to quickly get systems back on track when they fail to boot. They also retrieve valuable information from damaged hard disks and accomplish bare-metal system deployment
– Fixing most of the system boot problems without restore (Windows system registry modification in the off-line mode, MBR and the Boot.ini file correction, etc.)
– Use 27 defragmentation strategies to defragment FAT and NTFS file systems and MFT via built-in Total Defrag.
– Two wipe algorithms (custom and the US DoD 5220.22-M military standard) to destroy all on-disk information or only remnants of deleted files / directories without affecting the used data
– Support for Microsoft dynamic disks (simple, spanned, striped, mirrored, RAID-5)
– Disaster recovery infrastructure for Apple Boot Camp* configurations
Paragon NTFS for Mac OS X Review
When working with media files or documents in Mac, you need access to the high performance of your system regardless if the files are located on the Mac HFS+ formatted volume, or in Windows NT File System. Paragon NTFS for Mac OS X is the only NTFS driver on the market that provides full read/write access to NTFS with the same high speed as native HFS+ files. NTFS for Mac OS X is the first NTFS driver to support Snow Leopard in 32 and 64-bit mode!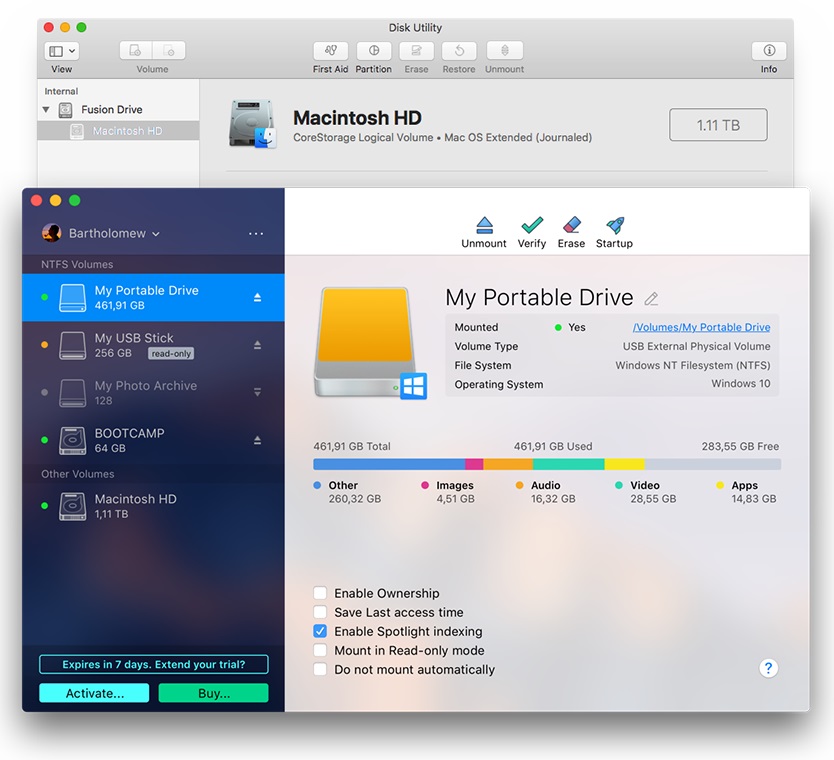 Why to use?
Issue: Mac OS X provides little support of NTFS – the primary file system of any Windows PC. You cannot create, delete or modify files or folders on NTFS partitions, but only read them.
Solution: With Paragon NTFS for Mac OS X, you will get full read/write access to any version of NTFS under Mac OS X.
Paragon NTFS for Mac OS X Features
– New NTFS for Mac is the first cross-platform solution which supports 64-bit Snow Leopard
– New Unprecedented high NTFS performance. The transfer rate is the same as with the native HFS file system!
– Full read/write access to NTFS. Mac OS X provides limited support of NTFS, the primary file system of any Windows PC. With Paragon NTFS for Mac OS X, you will get full read/write access to any version of NTFS under Mac OS X
– Easy to install. The driver is easily installed through a user-friendly wizard
– Easy to use. Mount any NTFS partition like a native one – no need to perform special commands to get access; just attach a disk or other media with NTFS partition and use it as you wish
– Create and repair NTFS partitions under Mac the same way you usually do with HFS/HFS+
– Non-Roman characters and languages. File and folder names in national languages, including Chinese, Korean, Japanese, Russian
– No limitation to maximum file/partition size (within Mac OS X and NTFS specifications)
– All NTFS versions are supported (from Windows NT 3.1 to Windows Vista)
– Compressed files and folders
– Sparse files
– Files and folders with security permissions
– Format NTFS utility – formats any partition as NTFS under Mac OS 10.5 and higher
– Check NTFS utility – checks NTFS partition integrity and fixes errors, creates and displays a status report about the NTFS file system
– Control NTFS utility – allows a user to control NTFS for Mac driver behavior
Paragon Partition Manager Advanced Review
Get the original! Paragon Software advanced partitioning tools help you completely control and manage your hard disks. With growing hard drive capacity, the need to reasonably split up the space is more important than ever. This easy-to-use partitioning tool is ideal for re-structuring your hard disk for optimal and effective data storage.
With growing hard drive capacity, the need to reasonably split up the space is more important than ever. Any operations with hard drives are critical, and reliability of performance is one of the most important tasks when choosing partitioning software. For many years Partition Manager has been the market leader in the field of disk partitioning, which proves its reliability! Our experience and the use of new technologies will allow us to solve any disk partitioning tasks.
Update: Paragon Partition Manager is available as a part of Hard Disk Manager Advanced Pack.
Features
– Support for Windows 10
Accomplish any operation under Windows 10
– Basic Partitioning
Create, format, delete, undelete, hide or unhide partition; set partition active/inactive; set, change or remove drive letter; change hard disk partition label (Volume Label); convert file systems; check file system integrity; run complete surface test
– Easy Partition Resize Resize partitions directly on the Disk Map with the drag-and-drop technique
– Merge Partitions Consolidate the disk space, from two adjacent partitions (NTFS, FAT16/FAT32), into a single, larger partition
– Redistribute Free Space Increase free space on one partition by utilizing the on-disk unallocated space and the unused space of other partitions
– Boot Manager Easily manage several operating systems on one computer
– Update Live imaging and migration Protect or migrate Windows systems online with Microsoft Volume Shadow Copy Service (MS VSS) or Paragon Hot Processing
– PAT (Paragon Alignment Tool) Align partitions to physical disk sectors to boost performance of storages
– Support for major virtual machines MS Virtual PC, VMware Workstation, VMware Fusion, VMware ESX Server, and Sun VirtualBox
– Wide migration options P2V, P2V Restore, V2P, V2V, update P2P, migration of Windows 10 installed on .vhd
– Connect VD Connect and work with virtual disks as if they are physical
– P2V Adjust OS / P2P Adjust OS Make OS start up after unsuccessful migration or virtualization with 3rd party tools
– Smart Driver Injector Make the process of adding new drivers smooth and easy
– Selective Restore Easily extract files and folders from a backup image through the Restore Wizard without the need to restore an entire image
– Encryption and password protection for backups Guarantee security for your confidential data
– Comprehensive recovery environments three types to choose from, based on the latest Linux, DOS, and New WinPE 3.0, available on CD/DVD/Blu-ray, thumb drives, and Backup Capsule
– Disaster recovery for Apple Boot Camp* Protect dual-boot Macs from the Windows side or in the Linux or WinPE 2.1 recovery environments
– Boot Corrector Fix most system boot problems that result from human or program error, or a boot virus activity
– NTFS and FAT defragmentation 27 defragmentation strategies, MFT defragmentation and shrinking, low free space defragmentation (less than 1% of the free space required)
– Better support for 64-bit platforms
Your computer will automatically be rebooted to native Windows boot-up mode to complete operations which cannot be accomplished under 64-bit Windows
– Better support for GUID Partition Table (GPT) Back up and restore not only single GPT volumes but entire disks, including the option of resize during the restore operation
– Better support for Apple Boot Camp Not only back up and restore this kind of configuration, but copy single volumes or entire disks with resize
– Better support for Linux ExtFS From Ext2FS to the new Ext4FS