Why Acronis Cyber Protect Home Office is better than its competitors?
Acronis Cyber Protect Home Office 2022 protects programs, documents, images/photos, mail, music, calendars, contacts and more. Storing content securely to an online location allows the user to safely synchronize with other personal devices with ease.
Features
Acronis Cyber Protect Home Office creates a disk image of the whole operating system, user data, images and applications including tasks, contacts and emails. Acronis has a snap restore feature, allowing its user to use the system as it is being restored. Another feature is the "Secure Zone," enabling the user to create a section that saves selected information and backups; the size of this secure zone can be enlarged to store more files.
With Acronis, you can use DVD, FTP and CDR for bootable media. If an operating system fails, pressing F11 will boot up the system and start the recovery process. This external bootable system offers another solution in case of a serious breakdown.
Acronis has been proactive when trying a new interface for the Acronis Cyber Protect Home Office application, offering a more user friendly home-screen with step-by-step tours of the main features such as recovery, backup, and cloud. Acronis offers visual cues with navigation tabs on top, which is helpful for newbies not yet familiar with backup software and conducting their first ever backup.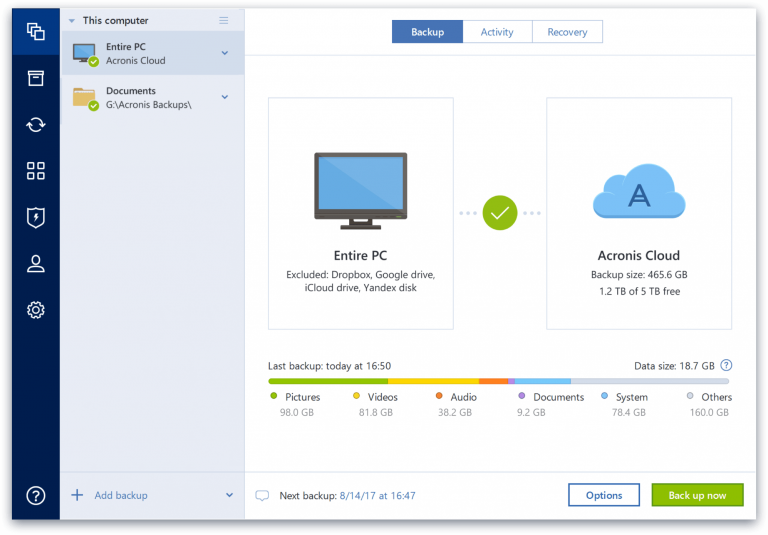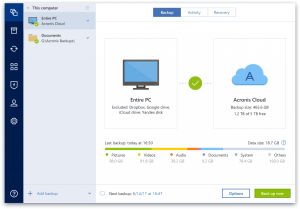 Acronis Cyber Protect Home Office vs Norton

Repetitive backup operations are possible with both Norton and Acronis Cyber Protect Home Office as both are capable of differential, incremental and full backups. Acronis uses backup schemes that can back up to a single storage with small space and "version chain" backups, which create a full and separate backup for the entire computer drive when needed, keeping the first one intact. Four more backups are performed subsequently, giving more backup options and taking up little space.
When a backup is performed next, the system has already five backups in place. To save on space after a new backup sequence has been completed, the five back up chain is automatically deleted after one month if the computer is idle. The whole scheme can be changed, as it will allow customization and is flexible in its scheduling options.
Norton's automatic backup system is integrated with Symantec ThreatCon, which grades the system based on security threats. When the system reaches an acceptable grade level, Norton can then be configured to perform an automatic backup.
There is no doubt that Norton and Acronis Cyber Protect Home Office both offer some promising features, putting these applications ahead of the rest and the two top competitors. Norton can certainly be viewed as a rival of Acronis, but not as an equivalent, as it has not been updated since a long time. Acronis Cyber Protect Home Office has released some recent mobile apps and is compatible with Windows 11. That together with some of its extra features including cloud access, 2+ TB drive and an online backup solution, edges Acronis ahead of Norton.
Pros and Cons
Acronis Cyber Protect Home Office is impressive in regards to its overall speed, choice of actions and user-friendly simplicity, it has a helpful wizard, a superb backup system including external recovery options and a resizable secure zone. This is an excellent choice for those who need real backup power. However, there are some features that need improving, such as its ability to multi-task and the length of time it takes to install.
Price
The prices for Acronis Cyber Protect Home Office start from about $4/month (subscription based licenses) and $50 for perpetual licenses. Acronis Cyber Backup for Windows starts from $350/year and $1050 for perpetual licenses. Never miss a chance to save big with Acronis deals and coupons.