ExpressVPN Review 2023 – "How Really Popular Is the Service?"
ExpressVPN deals and coupon codes are great when you have already decided that this is just the right VPN solution for you. But why should you choose it? Are there any better alternatives? Probably there are some good or even better VPN services on the market today but I don't want to count number of servers, Netflix or kill-switch support, live chat responsiveness, speed tests… etc. What I would like to share with you is how really popular is ExpressVPN among real users. To do this I would probably start with the real numbers from the social media sites comparing them with the nearest competitors.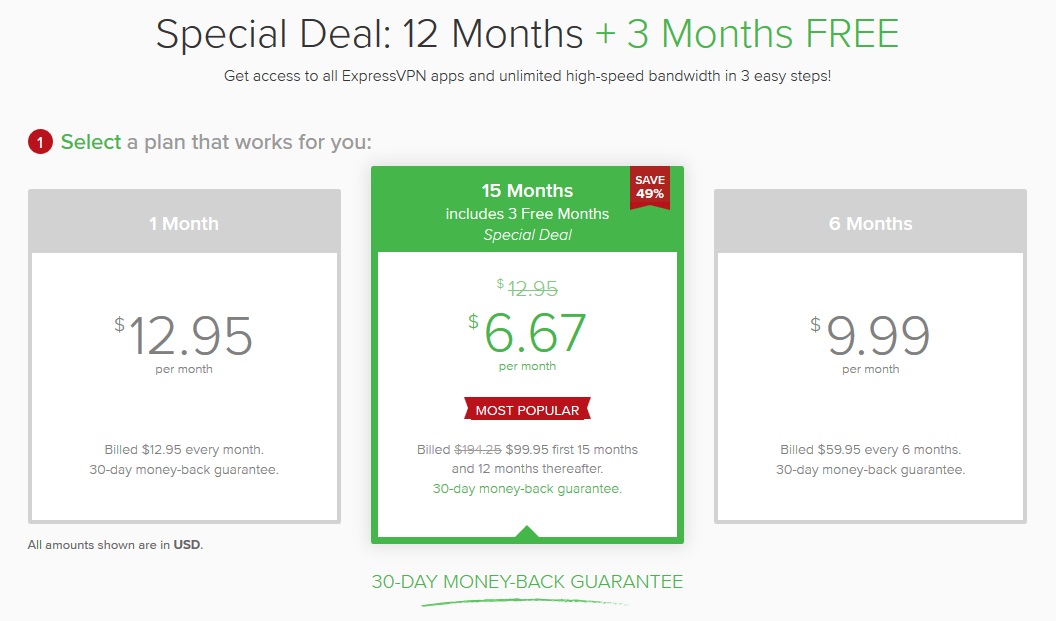 Note: The numbers are taken on January 2019
Twitter
ExpressVPN
4300 tweets
19000 followers
1000 likes
NordVPN
11600 tweets
19600 followers
2500 likes
CyberGhost
18000 tweets
12700 followers
3400 likes
Private Internet Access
2700 tweets
148000 followers
2400 likes
HideMyAss
5700 tweets
16700 followers
570 likes
I have chosen the above mentioned VPN services as I personally think they must be in the top 5 of the best and besides they are widely spoken. As you can see ExpressVPN is behind the number of tweets in comparison with NordVPN and CyberGhost, the same goes for the number of followers, which is almost the same as NordVPN but far behind PIA.
Facebook
ExpressVPN
47000 likes
50000 subscribers
NordVPN
97000 likes
100000 subscribers
CyberGhost
13000 likes
13000 subscribers
Private Internet Access
1050000 likes
1050000 subscribers
HideMyAss
53000 likes
52000 subscribers
The difference in numbers among Facebook users is more significant but the definite leader here is the same Private Internet Access VPN with more than 1 million likes in comparison to ExpressVPN with about 50000 likes.
The two most popular social media sites show us that ExpressVPN takes the average place among the best VPN services worldwide. In favor of this VPN service I can say that it is one of the most discussed on different forums, it takes first places on many popular VPN review sites, such as VPNHint and it shows good Google trends results for many keywords (in US region). For example if you type "ExpressVPN" search term in Google Trends and set the last 5 years data in USA you will see a steady growth, like this: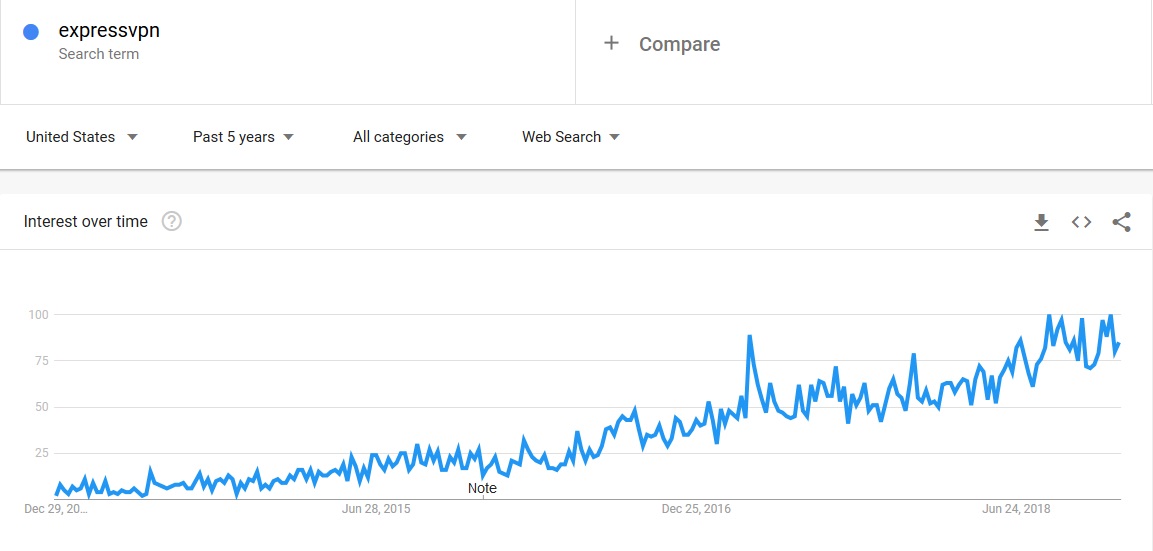 If you set to compare ExpressVPN to other 4 competitors you will see the following picture: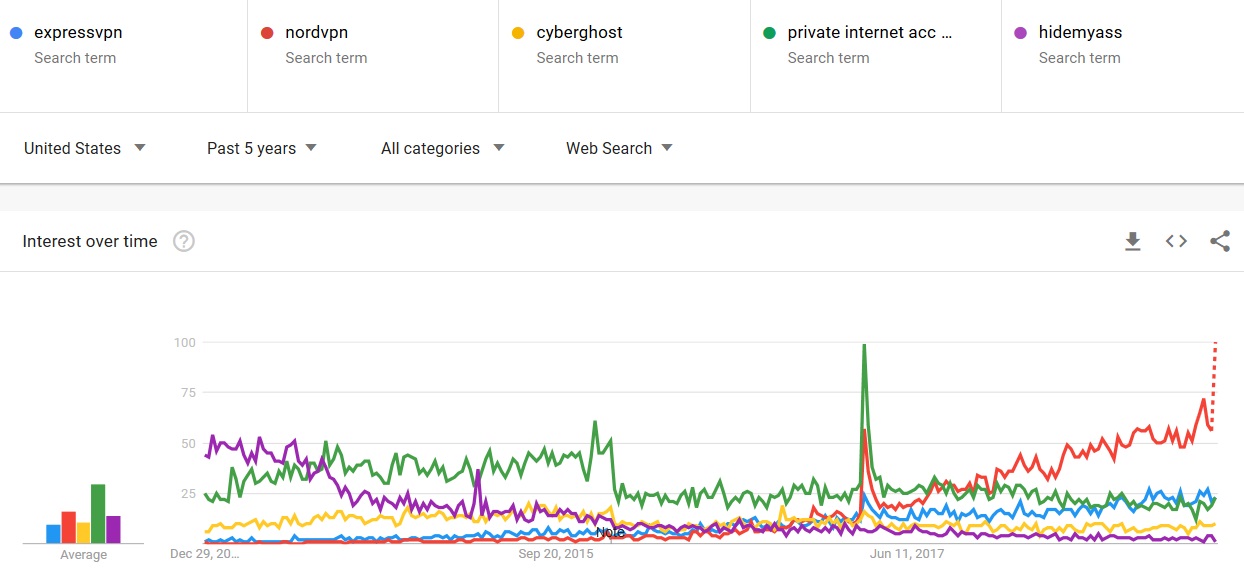 The obvious question is what does it mean? So as you can see HideMyAss (the purple line) was very popular about 5 years ago for the search term "hidemyass" in Google among US users but started to lose weight and doesn't recover. CyberGhost hasn't changed much its popularity throughout these 5 years. PIA (the absolute leader among social media users) looks to lose some of its popularity but not as drastically as HMA. The most unexpected result shows NordVPN (red line) as it gained tremendous growth in search starting from mid 2017.
Conclusion
This little investigation from "real numbers" showed us that PIA (PrivateInternetAccess) seems to be the most discussed and therefore the most popular VPN service among users in Twitter and Facebook but according to Google Trends NordVPN is the absolute leader in "real users" searches. As for ExpressVPN looks like it is a "black horse" as it also shows growth in popularity though not so rapid as NordVPN.