Kaspersky Premium 2023 Review

Kaspersky Premium 2023 is one of the best internet security suite on the market today that goes beyond the usual antivirus software. Nowadays more and more people using the Internet for online shopping as a result it becomes a breeding ground for online criminals. We can't say the exact number of cybercrimes for the last year but what I can say for sure that the overall data stealing and phishing have been greatly increased from year to year. E.g. Norton cyber crime report for 2022 counted more than 400 million online crimes. It means that more than 500 million people worldwide lost personal information, credit cards passwords and were victims for other fraudulent activity of computer crime attacks.
In addition to a usual set of antivirus tools Kaspersky Premium 2023 includes all necessary features and options for secure online shopping like virtual keyboard and anti-phishing module. What I like in this internet security suite is that it prevents the possible virus infection by blocking dangerous websites/pages and analyzing any application before you install it.
Kaspersky Premium suggests you to become a member of KSN (Kaspersky Security Network) when you install the antivirus suite. It means that every time you are trying to install suspicious software or launch suspicious application Kaspersky analyze it among the members of KSN and reports whether it is safe or danger. This process takes only several seconds so it won't slow down the system.
Another great advantage in this software in comparison with other suites (e.g. BitDefender Internet Security 2023) is the ability to create a rescue disk within the program. Though BitDefender has the ability to reboot the computer in Linux environment and scan the system for Trojans and other threats there is no option for rescue disk creation. Just imagine that your computer is unbootable due to virus or malware software activity, what would you do? With Kaspersky rescue disk you can boot the computer, access the antivirus software GUI (graphical user interface) and check the entire system for viruses.
Some people claim that Kaspersky software overload and slow down the system in comparison with other great brands like Norton, BitDefender, Avast, ESET and other antivirus suite software. When I started to use Kaspersky software in the 1997-1998 I can say that this statement was true and we like to say install Kaspersky to your computer if you want to make Pentium 2 from Pentium 3. I believe that nowadays the computer performance has been greatly increased and more people can afford good processors, video cards and several RAM modules. I tested Kaspersky Premium 2023 on Intel Core2Duo 3.16 GHz with 2 Gb RAM and ATI Radeon 5800 and can say that I didn't notice any system slow down.
Regarding the speed of the system scan it took about an hour to check 300 Gb hard drive, which I can't say a fast scan, but Kaspersky Suite 2023 found some threats the previous software couldn't (Webroot antivirus). I believe that it should take some time for a good antivirus software to check the entire system thoroughly.
Kaspersky Premium 2023 full features and protection tools list:
– Custom Scan Modes
– Automatic Updates
– Scan USB Media
– Scan CD/DVDs
– Game/Full-Screen Mode
– Laptop Mode
– Rescue/Safe Reboot
– Application Control
– Safe Mode/Sandboxing
– Search Advisor/Rating
– Privacy/Identity Protection
– Parental Controls/User Profiles
– Password Manager
– Antivirus
– Firewall
– Antispam
– Antispyware
– Antiphishing
– Anti-adware
– Rootkit Protection
– Detects Keyloggers
– Detects Trojans
– Browser Hijackers/BHO's Detection
– P2P File Sharing Protection
– Network Protection
– IM/Chat Protection
– Social Network Protection
Conclusion
According to the latest Av-test.org results (independent IT security company) Kaspersky Premium 2023 earned almost maximum points. Protection – 6 out of 6, repair 6 out of 6 and usability 5 out of 6. Repair means that the software was used on the system already infected with the malware software or virus and means how well the antivirus clears the system. I'm completely agree with AV-tests and think that Kaspersky Premium 2023 is suitable for both beginner and professional users.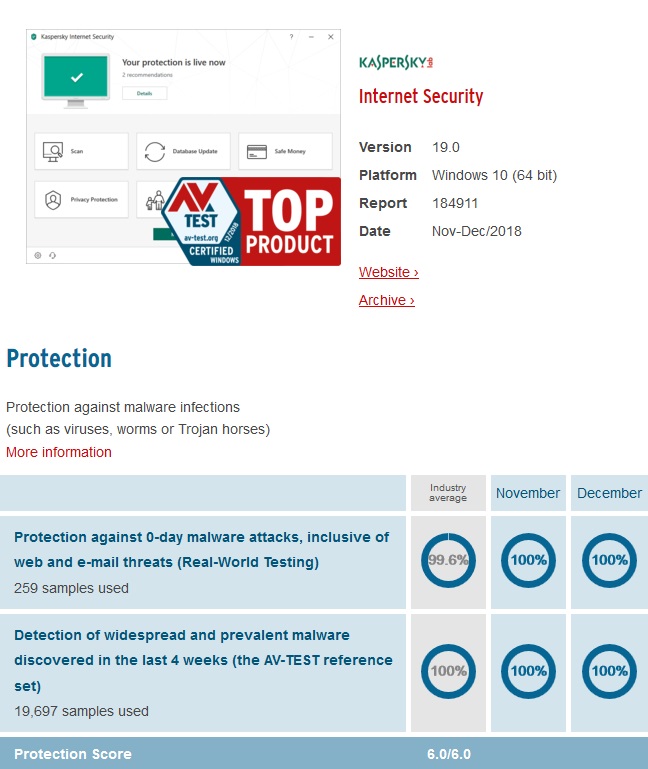 Kaspersky Antivirus 2023 Features Review
Kaspersky Antivirus – antivirus software, developed by Kaspersky Lab. Gives the user protection from viruses, Trojans, spyware, rootkits, adware, and unknown threats with proactive protection that includes components of HIPS. Initially, in the early 1990s was called-V, then – AntiViral Toolkit Pro.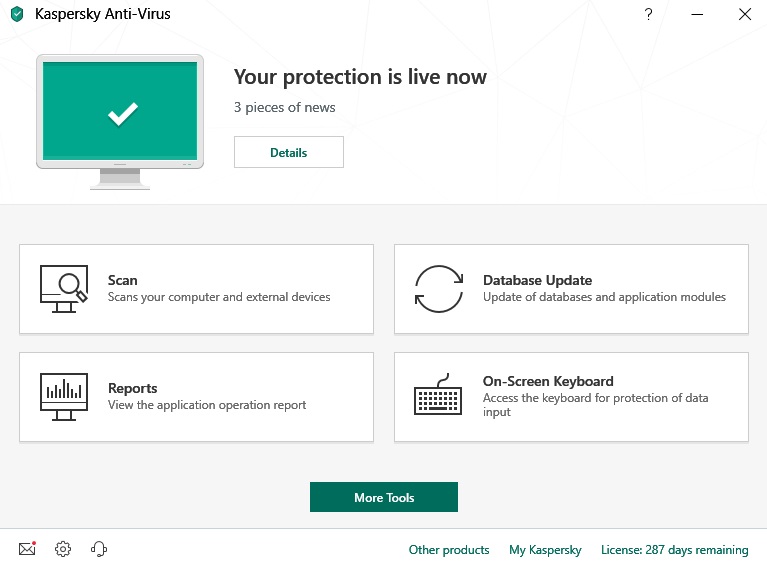 Basic protection
– Protection from viruses, worms and Trojans
– Protection from spyware and adware
– Checking files in real time on-demand
– Scans email messages (regardless of email client)
– Scans Internet traffic (regardless of browser)
– Protects instant messengers (ICQ, MSN)
– Proactive protection from malicious programs
– Checking Java-and Visual Basic-script
Prevent threats
– Search for vulnerabilities in the OS and installed software
– Analysis and elimination of vulnerabilities in Internet Explorer
– Disables links to malware sites
– Detects viruses based on their packaging
– Global threat monitoring (Kaspersky Security Network)
Restoration of system and data
– Program can be installed on infected computers
– Self-protection from being disabled or stopped
– Restores correct system settings after removing malicious software
– Availability of tools for creating a Rescue Disk
Identity theft protection
– Disables links to phishing websites
– Protection from all types of keyloggers
Ease of use
– Automatic configuration during installation program
– Complete solutions (for typical problems)
– A visual display of the program
– Helpful dialog boxes for a user to make informed decisions
– A choice between a simple (automatic) and interactive modes
– 24/7 technical support
– Automatic database updates