Acronis Backup Advanced Workstation Review
Acronis Backup and Recovery 12.5 Advanced Workstation offers users a comprehensive system to backup, migrate and recover work, ensuring work is never lost and is recoverable quickly in the event of a server fault. The program facilitates easy transfer between physical, virtual and cloud servers. With a user-friendly interface the program can be installed and ready to go in minutes. The service is adaptable to suit the needs of the user as the unified solution allows you to pick which components you need now, with the opportunity to add more in the future, as the needs of the user develop.
Acronis Backup & Recovery 12.5 Advanced Workstation allows the user to quickly pin point and recover files without having to restore applications or operating systems. The files can be recovered to the place they were before or transferred onto new or virtual hardware. For ease of use Acronis automatically configures the necessary drivers onto new hardware to enable servers to effectively boot. Backups can be scheduled in advance by either editing your preference for a particular time of day or by using a condition based backup trigger, such as logging off a machine or shutting it down. In order to minimize any impact caused by the backup operation on the network, the amount of bandwidth used can be limited.
The software is designed to support a variety of operating systems with support available for both Windows and Linux. Centralized management is in place to include up to thousands of servers, offering the flexibility needed for future growth. An overview of all resources in a Virtual Tree is available and machines can be placed together into nested groups for ease of use. All license keys can be kept together in one place to ensure safe and effective management.
Disaster recovery is available across both virtual and physical environments, and a cloud storage facility is available in the secure Acronis Cloud Storage datacenter which offers increased peace of mind. In the event of a hard disk failure your server can be restored completely onto a new hard drive. This can be done remotely enabling a quick restore for network-based machines. After every backup a Disaster Recovery Plan is generated, which will offer a series of step-by-step instructions to get you up and running again.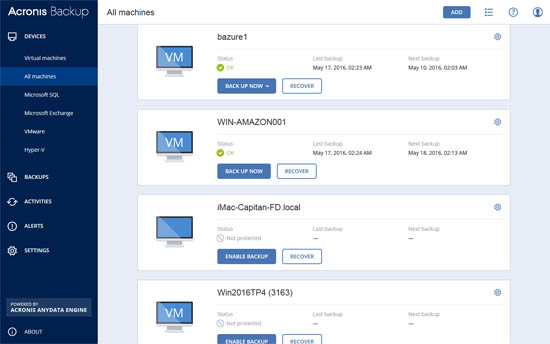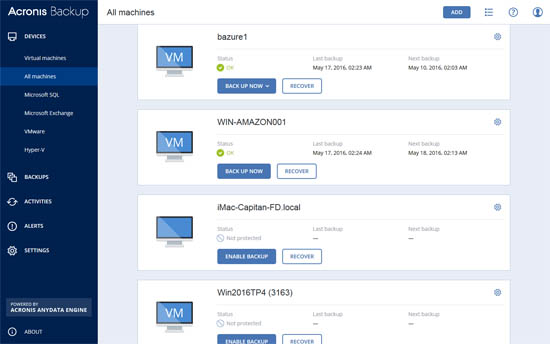 The Acronis Backup and Recovery 12.5 Workstation offers a backup that's disk based and which helps to recover data from laptops and business desktops. It is able to maintain your data in a centralized location. The users have the ability to restore their data from the Acronis Secure Zone. The data protection that's integrated protects the intellectual property which resides on separate workstations. To help reduce downtime and improve productivity, Acronis 12.5 takes a snapshot of the available disk with the help of patented imaging technologies. This means that there is no need to take laptops and desktops offline when there is a need to do backup.
This product comes with many benefits. Once there is need, the recovery process is quite short. You can recover the images which contain the data, operating systems and applications pretty quickly. If there are individual files which have been deleted by mistake, you can recover them with relative ease.
Moreover, the user interface is intuitive and the users are able to restore folders, files and also the whole system without having extensive training or getting help from an administrator. People who are mobile can recover their machines from a USB hard disk drive. They can also press the F11 and access the recovery manager for Acronis. You can back up a laptop even when you are on the road and even to a number of locations. Besides these excellent features, there is the Acronis Secure Zone, a protected partition in hard disks where you can backup securely. Moving the entire system is easy and it takes just a few minutes. You can do migration of the entire system together with its applications and settings.
Customer Reviews
There are a plethora of reviews available on the web regarding Acronis Backup and Recovery 12.5 Workstation. Users appreciate the fact that they have the freedom to do backup in a way that is more convenient to them. They can do their backup even when they are on the road – this offers them the kind of flexibility which they require. The users appreciate the fact that the backup program works on both laptops and desktops which have a windows operating system. Also, the ease of use has been praised by the users. With very simple procedures to follow, the users appreciate that they can achieve a lot with it.
You don't have to seek training from those who have expert knowledge on the product so that you may use it. Users have marveled at the ability of this product to be deployed remotely. Also, the level of reliability which is offered by the imaging utility is exceptional. Moreover, the existence of the universal recovery features makes Acronis Backup and Recovery 12.5 Workstation the ideal choice for many people. It is indeed a true lifesaver for a person who works as a computer technician or a network administrator. Images can be restored with ease to different hardware thus making their retrieval at a later date much easier.
Conclusion
Users on the web are commending Acronis Backup & Recovery 12.5 Advanced Workstation as being easy to use and implement across both large and small businesses. The software has been described as a "life-saver", and comes highly recommended for Network Administrators. Users appreciated the upgrade to management functions from previous versions, advanced alerts by email have also proved popular as they inform users of potential problems before they arise, such as low disk space. The centralized management system has been highly praised as minimizing backup and recovery time, resulting in monetary savings.
An area for improvement has been highlighted by some users, who dislike the simplicity of error messages generated by the software. They feel these are over simplistic and fail to highlight the issue, thus necessitating further research on the part of the technician to ascertain the problem.