McAfee Total Protection 2023 Review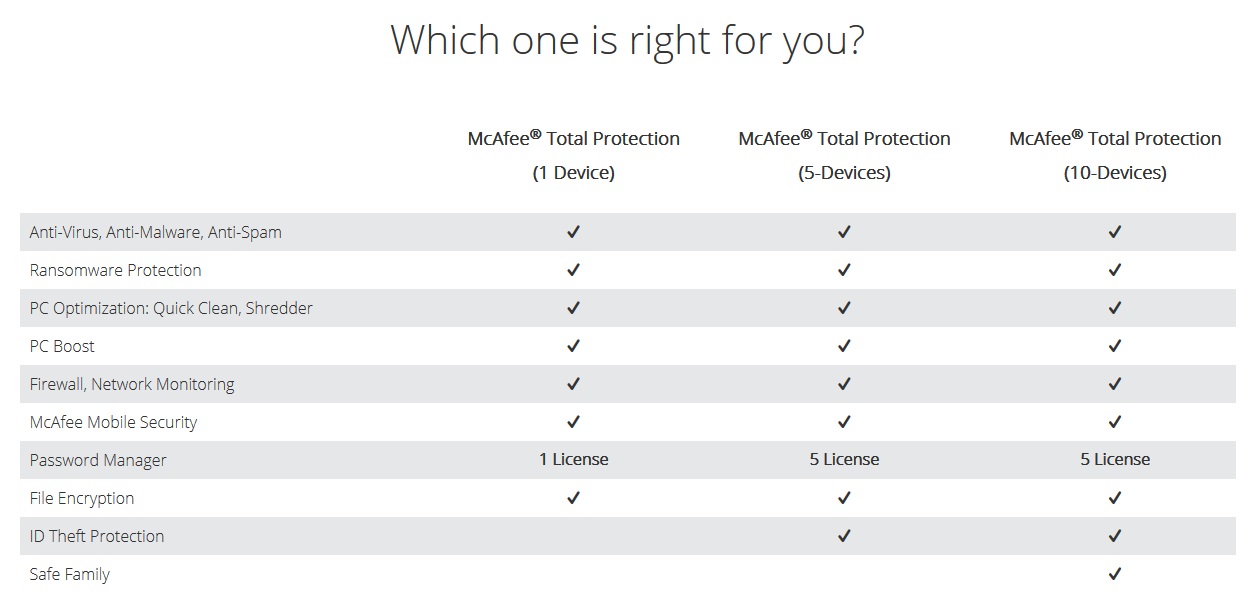 – Number 1 in virus, spyware and malware detection
With thousands of new viruses created every day, relying on traditional security updates is not enough anymore. Unlike the competition (Kaspersky and Norton Symantec), exclusive McAfee Active Protection technology instantly analyzes and blocks new and emerging threats in milliseconds so there is virtually no gap in your protection.
– Award winning antivirus, spyware and firewall
Anti-Virus/Anti-Spyware
Detects, blocks, and removes viruses, spyware, adware, even rootkits – insidious programs designed to tamper with your PC.
Two-Way Firewall
Blocks outsiders from hacking into your PC.
– Better protection against dangerous and suspicious sites
McAfee SiteAdvisor
Helps you know about a website's risks before you click to stop malware threats. Advanced phishing protection alerts you to websites that may try to steal your identity or gain access to your financial information. Provides site ratings in 22 popular search engines.
McAfee SiteAdvisor Plus
Stay safe with instant message and email link checking. Identifies and prevents you from clicking on harmful website links in your browser, email, or instant messages.
– Antispam and e-mail protection
Anti-spam blocking
Advanced spam identification capabilities prevent SPAM from clogging your inbox.
– Unintrusive protection
Scan Time
Rely on real time scanning to automatically protect you against threats to your PC. Enjoy fast subsequent full system scan time which won't slow you down.
Memory Utilization
Small memory footprint means less impact on your day-to-day PC activity.
Installation
Small download size enables you to quickly get up and running.
– Simplified security management
Home Screen
Easily check the status of your protection, monitor how many threats have been blocked, and manage your security – all from the McAfee home screen.
Idle Timer and Scheduler
Reserve security scans and updates for when you are not using your PC, for less disruptions.
Parental Controls
Internet filtering controls allow you to effectively manage your children online activity.
Home Network Defense
Defends your PC from intruders on your home network, blocking access to sensitive files.
Alert System
Alerts are unintrusive and easy to understand.
– Better PC health
McAfee QuickClean
Safely removes junk files that slow down your PC.
McAfee Shredder
Digitally destroys no-longer-needed sensitive files to prevent anyone from accessing them.
Disk Defragmenter
Get quick access to consolidate fragmented files and folders.
– File Protection and backup
McAfee Online Backup
Take the hassle out of manually backing up your most valuable digital files. Once installed, the backup process is fully automated. Your files are encrypted and stored on a secure, remote online server. Comes with 2GB of online backup with the option to upgrade to unlimited.
Bonus Download
McAfee Anti-Theft password-protects and encrypts your personal documents, financial records and other important files on your PC against thieves and hackers.
– Fast and Effective
Work or play with minimal interruptions with fast and effective virus, malware, and spyware scanning. Schedule security scans when you're not using your PC. Automatic scans and updates occur when your PC is idle. All of which means, McAfee Total Security 2023 will not slow you down.
– Easy to Use
The Home Screen gives you all the information you need at a glance. And you are never more than one click away from it, which eliminates popup windows and makes for easy navigation. Simplified alerts and scan results make it easier than ever to protect your PC.