Recover My Files Data Recovery Review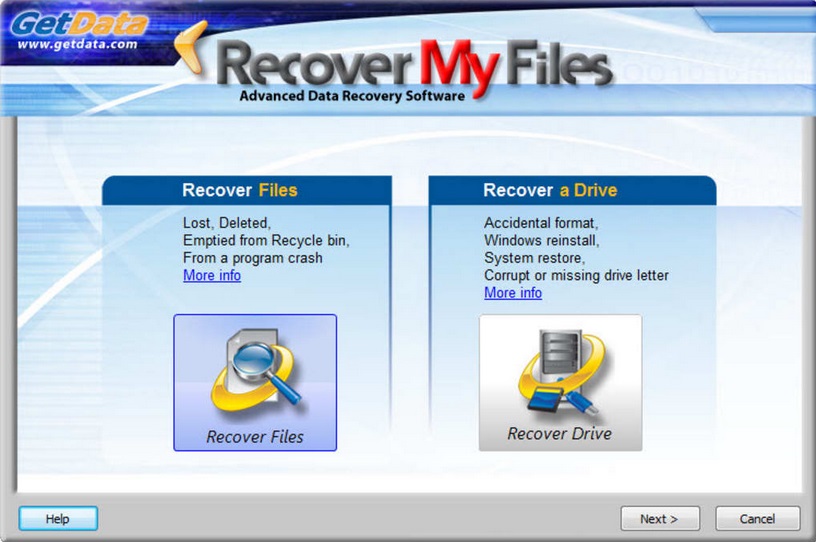 Recover My Files data recovery software will easily recover deleted files emptied from the Windows Recycle Bin, or lost due to the format or corruption of a hard drive, virus or Trojan infection, unexpected system shutdown or software failure.
With Recover My Files – Data Recovery Software you can:
– Recover files even if emptied from the Recycle Bin;
– File recovery after accidental format, even if you have reinstalled Windows;
– Disk recovery after a hard disk crash;
– Get back files after a partitioning error;
– Get data back from RAW hard drives;
– Recover documents, photos, video music and email;
– Recover from hard drive, camera card, USB, Zip, floppy disk or other media.
Recover My Files is fast and easy. No technical or data recovery software skills are required to undelete files. Use Recover My Files to perform hard drive data recovery, or if you are trying to unformat and recover data from floppy disk, zip drive, smart media, compact flash or other removable media. It is easy disk recovery software to undelete files and get data back.
As of some good alternatives I may recommend to have a look at competitive software – Acronis Revive, Genie TimeLine Professional, Paragon Hard Disk Manager Advanced and Spotmau Powersuite Golden.
Do not waste time and money on other software wondering if you can recover deleted files. Download and try Recover My Files undelete software free. Scan your drive and view your deleted files. If you can see your deleted files then data recovery is quick and easy.
Purchasing an activation key lets you to save your file recovery results. When you purchase via our secure server your activation key is provided to you on a web page at the end of the purchase process and by email.
Recover My Files data recovery software will find any type of file, but includes specific support for more than 200 files types in the following broad categories:
– Recover deleted e-mail
– Recover deleted documents
– Recover deleted archives
– Digital photo recovery
– Recover deleted music and video
Recover My Files is compatible with Windows 98/ME/2000/2003/XP, Vista, Windows 7, 8 and 10 and works with FAT 12, FAT 16, FAT 32, NTFS and NTFS5 file-systems.
With a deleted file the data content of the file is rarely destroyed. Even if Windows file reference information has been destroyed, Recover My Files scans the data at a low level to locate "Lost Files" by their internal file structure. This allows Recover My Files to recover deleted files that other data recovery software can never know exist.