SoundTaxi Media Suite Review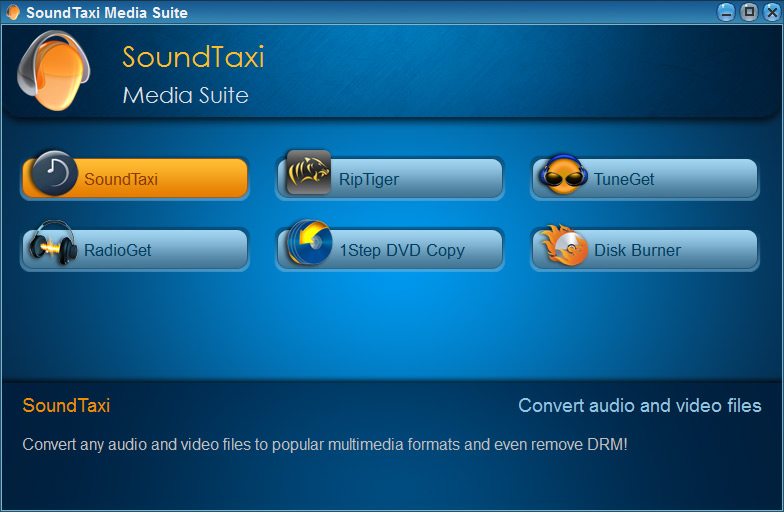 SoundTaxi Media Suite, that contains SoundTaxi Pro + VideoRip in a bundle with other 4 fantastic products Web Video Downloader, Music Downloader, Web Radio Recorder and DVD Copier.
SoundTaxi can fast convert DRM protected music files to unprotected MP3, CD, iPod and other music file formats. It is now the world's only software can remove DRM an MP3 file can effectively remove DRM from MP3, WMA, WMV and other mainstream video/audio format files.
What can SoundTaxi Media Suite do?
SoundTaxi Pro + VideoRip
Converts DRM and non-DRM music and movies to popular video/audio formats; Supports music files download from iTunes, Napster, Zune, Yahoo Music, MusicMatch, MSNMusic, MusicLoad, MTV / urge and many other music websites.
RipTiger
Automatically catch and download videos from manually specified URLs, then you can use it to convert downloaded videos to various formats; Capture online TV and webcasts; Support copying donwloaded videos to iPod.
TuneGet
An easy two-click solution to search and download free music; User friendly interface and fast performance; Downloading music conveniently from the desktop, without going online; Find and download music you only heard briefly by typing in a few words from the lyrics.
RadioGet
With RadioGet we can listen to 25,000 popular web radio stations and record tons of great music for free, no quality loss, includes recording online radio to MP3 files.
DVDJoker Free
The best solution on the Web to copy DVD disks with any format, protection and zone, it can help you rip and convert protected DVD movies to iPod, Divx or to blank disks.
All the tools offer you an easy-to-use interface and a fast running speed, you can install SoundTaxi Media Suite and use it easily by yourself!