Dashlane Password Generator Review
The Dashlane password generator will automatically generate strong and unpredictable passwords based on the guidelines that you provide. You can then save, manage, and access the generated as well as imported passwords on any device across various platforms thanks to Dashlane's extensive compatibility with major operating systems. Dashlane also allows users to securely share unlimited passwords and revoke access to shared passwords anytime.
Filling web forms manually is a thing of the past. Sit back, relax, and let Dashlane do all the dirty work for you the next time you come across a web form that needs to be filled out. I was quite surprised at the speed and efficiency with which Dashlane was able to accurately fill every web form that I came across since I started using the app. You can securely store financial records, medical files, and other private data with Dashlane to share them with your family members.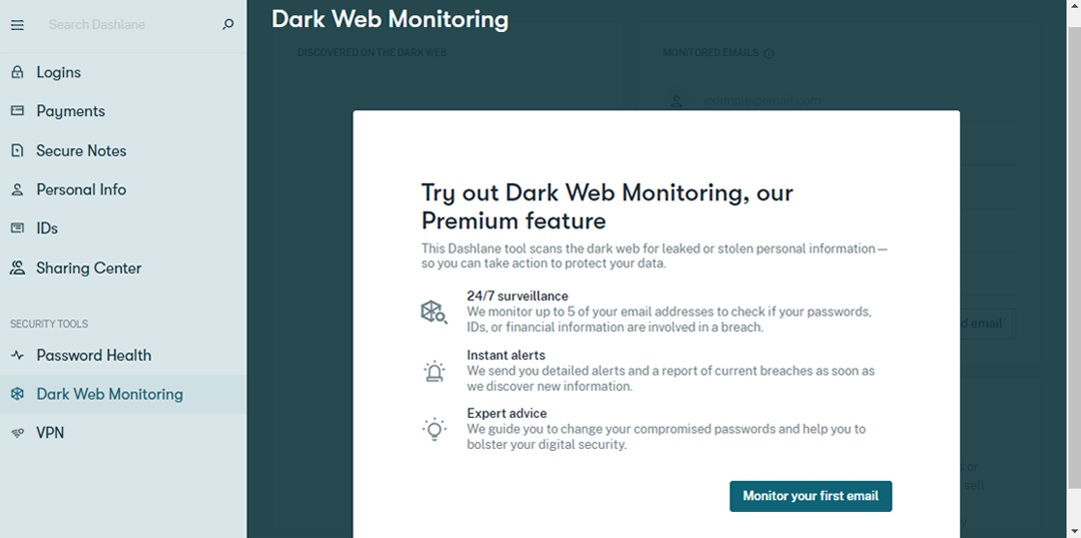 Dark Web Monitoring is one of my favorite Dashlane features. Dashlane automatically monitors security breaches and compromised passwords. The dashboard gives access to real-time insights and alerts about such breaches or vulnerabilities so that they can be immediately addressed at the organizational level.
The built-in security tool regularly scans more than 20 billion records on the dark web for leaked personal data, employee records, or login credentials. A VPN connection further fortifies your device security and prevents unauthorized access to your private data when connected to the internet.